RADICAL REVENUE dares you to RE-THINK your practice as a service professional.  Of course, if you're completely and thoroughly satisfied with your success, status, income, workload and are living anxiety free without worrying about generating new prospects and clients, then simply ignore this book. 
But for those of you that are, in any way, disappointed or frustrated with a hamster wheel kind of existence (even when it produces a decent income), or are totally sick of the over hyped marketing advice and social media ideas you're paying for that aren't yielding HIGH ROI to justify the cost or changing your life for the better, then RADICAL REVENUE is for you.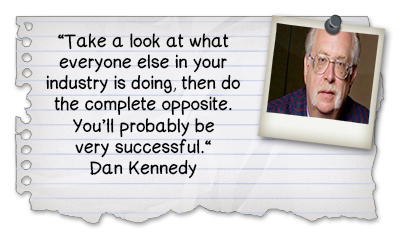 To Those of You Who Are Already Moderately to Highly Successful… you will be RE-INVIGORATED and FASCINATED with THE WIN/WIN Approach to business discussed in this book.  All too often successful service professionals feel they are caught in the "success trap".  Somewhere deep inside they're looking around wondering "what was it all for"…. All the time away from the things they love-family, friends, their passions… Some have even said, in confidence, that if they knew then what they know now, they would have gone into another profession entirely, even though they have their dream cars, houses and all the "trimmings".
To Those of You Struggling, Frustrated and Disheartened… take hope knowing that RADICAL REVENUE is your REVENUE RESCUE! You may be rescued from the financial strife, feeling like a failure, waiting for "your ship to come in, family strain and finally have a ROADMAP to follow for your practice lifestyle dream.
 Discover Why Marketing Whiz Seth Godin states:

 AND What You Can Do About It Now!
If You Desire to Boost Your Online Presence without Being Salesy… in this book, Tiphanie gives you real actionable ways to do so.

If You Hate Marketing… Tiphanie shows you how to go from shameless self-promoter to Selfless Problem Solver.

If You Want to Serve Your Clients and Patients at the Highest Possible Level AND Make a Ton of Money… then RADICAL REVENUE is for YOU!

Stop Branding and Start Sharing a Message that Connects with Your Prospects AND accelerates the KNOW, LIKE and TRUST Factor.

Be You, Serve and MAKE AWESOME MONEY that is leverageable, scalable and outsourceable with ease.
Myths are Shattered and TRUTH Revealed in this Powerful Book written by a fellow Service Professional…
RADICAL REVENUE is a Game Changer… Get Your Copy Now.  For a Limited Time, Get Your Copy of RADICAL REVENUE and Get a $200 VIP Scholarship to RADICAL REVENUE Bootcamp!  Warning, this VIP Scholarship offer may be withdrawn at anytime without notice. Get Your Copy Right Now!